Consistency is often touted as the most important factor for successful podcasting. While having a regular schedule is important, there are other factors that are equally or even more important. Let's be real. Things happen. If your podcast is not your full-time job, sometimes your next podcast episode might have to be delayed. That's okay.
In this blog post, we'll discuss five things that are more important than consistency when it comes to podcasting.
Quality Content
The most critical aspect of any podcast is the content. Your podcast must offer something of value to your audience. This means having informative, engaging, and entertaining content that your listeners will want to come back to again and again. I'm going to go out on a limb and say that most of us do not take enough risks with our podcasts. Once we're in a groove, it's easy to get comfortable. Try to push the envelope with every new episode but remember… the quality of your content will have a significant impact on the success of your podcast. Ensure that every episode is well-produced, well-researched, and well-executed. Never compromise on quality.
Authenticity
Authenticity is crucial when it comes to podcasting. You cannot afford to take the connection and trust that you build with your listeners for granted. Your audience can tell when you're not being genuine, so it's important to be yourself and share your unique perspective. This means being honest about your opinions, experiences, and knowledge. Don't try to be someone you're not. Your audience can tell.
Great Host
If you are the face of your podcast, it's essential to be engaging, interesting, and relatable. As a host, you should be passionate about your topic and able to connect with listeners. You should also be knowledgeable and able to guide the conversation. An engaging host can make a huge difference in the success of a podcast.
Listen
Listening to and engaging with your audience is another crucial factor that can make or break a podcast. By listening to your audience, you will better understand their needs and preferences. This can help you tailor your content to meet their expectations and create a more engaging listening experience. Encourage feedback and respond to comments and questions from your listeners. This shows that you value their input and are committed to building a relationship with them.
Marketing and Promotion
Even the best podcast cannot succeed without effective marketing and promotion. This means utilizing social media, email lists, and other forms of marketing to reach new listeners. It also means collaborating with other podcasters or influencers to expand your reach. Don't be afraid to promote your podcast aggressively, as this is the only way to grow your audience.
In conclusion, while consistency is essential, it's not the only factor that determines the success of your podcast. Quality content, authenticity, an engaging host, consistent quality, and effective marketing and promotion are equally important. By focusing on these factors, you can create a podcast that stands out and attracts a loyal following of listeners.
Now Is Your Time!
I really enjoyed this LinkedIn post and wanted to share it with you. It seems the pendulum is swinging back in favor of the independent podcaster who can be a lean and mean showrunner.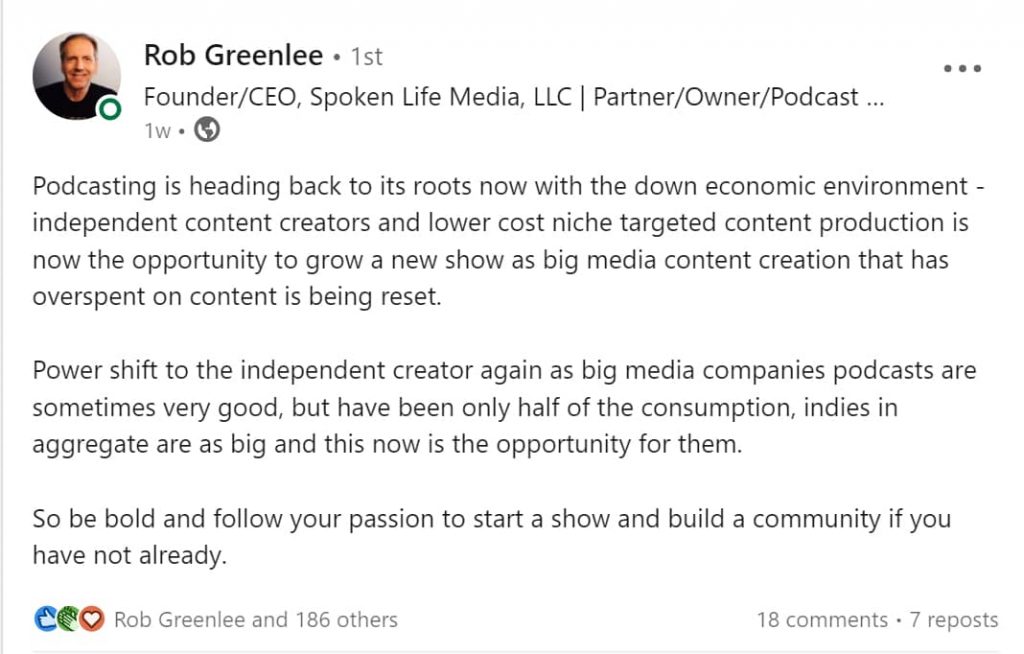 What do you think? Is an economic downturn the time for an independent podcaster to lean into growth?