If you're ready start a podcast, you're probably asking, "Where should I host my podcast?" The good news is that you've got choices. The bad news is that you've got choices!
Don't get overwhelmed though. A dedicated podcast host is a specialized service that offers to store and deliver media files associated with a podcast. While you could host your media files (MP3 or AAC / M4A) yourself, either on your own server or wherever you host your website, this is not recommended for most. If your podcast begins to grow, your podcast downloads could affect your bandwidth and quickly get expensive. Also, your web host specializes in delivering web pages, not media files. And if there are ever issues with your website, listeners might not be able to download your episodes.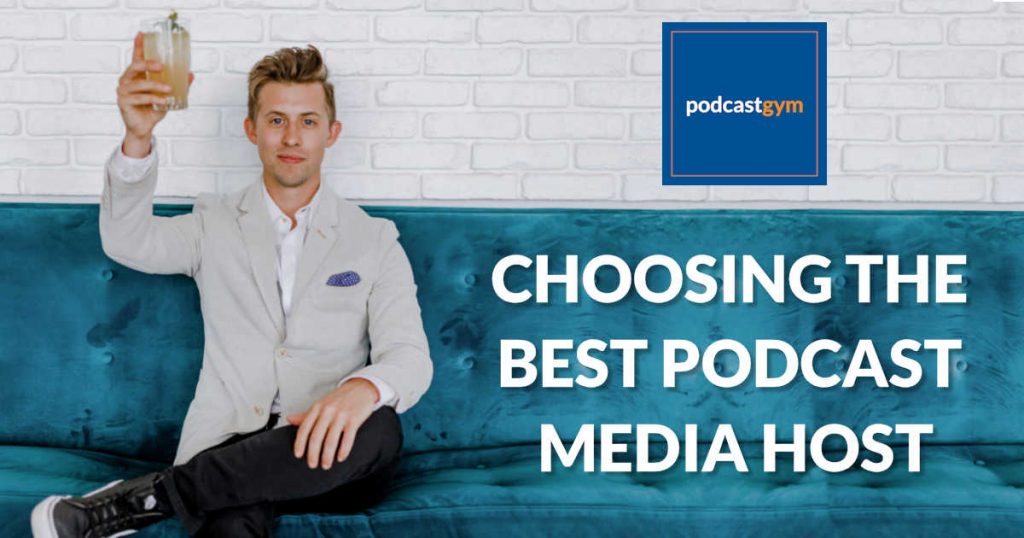 Your dedicated podcast host should serve your media files quickly and take the load off of your website. You should also get industry-standard statistics, distribution across podcast directories/platforms, and support. You might also consider factors like an embedded player, monetization features, sponsorship opportunities, automations, and education.
When choosing your podcast host, you want one that will grow with you and meets your needs in terms of price, reliability, and support. You want to find a long-term partner because if you need to change hosts in the future, you probably won't be able to seamlessly port your downloads and analytics. It's not the end of the world, but choosing the right host today will save you from headaches tomorrow.
Here's my roundup of media hosts.
Hosts That I Use:
Other Recommended Hosts:
Established in 2004, Libsyn (Liberated Syndication) launched as the first podcast service provider offering storage, bandwidth, and RSS creation tools. Libsyn hosts over 67,000 podcasts worldwide, delivers over 111 million unique downloads every month, and accounts for 28.2% of Apple Podcasts downloads for the top 400 US Podcasts.
I've hosted Inspired Money at Libsyn since launching it in September 2017. The hosting has been reliable, and Libsyn helped distribute my podcast early to Spotify, Pandora, iHeart Radio, Amazon Music/Audible, and other services. It's great to be supported by long-time podcasters like Rob Walch, Elsie Escobar, Dave Jackson, Rob Greenlee, and others.

Pros: Strong brand reputation, host of many of the top downloaded podcasts, frequently first to market for integrations with platforms and directories, advertising and monetization (for shows with 5,000+ monthly downloads), custom app for iOS & Android (extra $10/month + other fees), The Feed The Official Libsyn Podcast.

Cons: Dated web interface, cost, one RSS per account.

Plans:
Classic 50 Starts at $5/month for 50 MB monthly storage
Classic 250 at $15/month for 250 MB monthly storage
Advanced 400 at $20/month for 400 MB monthly storage and Advanced IAB v2.0 Stats
Advanced 800 at $40/month for 800 MB monthly storage and Advanced IAB v2.0 Stats
Self-proclaimed as "The World's Only Growth-Oriented Podcast Hostâ"¢", Captivate was created in 2019 for independent podcasters. Captivate is the podcast hosting company of UK-based Rebel Based Media that offers a suite of podcast tools including Poductivity, Podcast Success Academy, and Podcast Websites.
The Podcast Gym podcast is happily hosted here. Founded in 2019, Captivate is a newcomer but it feels like a veteran. Mark Asquith, CEO of Rebel Base Media, has been helping podcasters to build their audio influence since 2014 and is a frequent speaker, exhibitor, and attendee at podcast events. The small but mighty team is responsive and consistently adding new features. There are lots of resources including a private Rebel Base Media Podcaster Support & Experience Facebook group, Blogs (Captivate, Rebel Base Media), Podcasts (The Podcast Accelerator, Captivate Insider), and YouTube channel.

Pros: Unlimited podcasts/RSS feeds for one inclusive price, advanced analytics, calls-to-action built into the podcast player, and excellent content for education and support (multiple podcasts, live Q&A, blog) focused on creation, growth, and monetization.

Cons: More downloads means higher pricing

Plans:
Podcaster at $19/month ($17/mo annual discount) for 12,000 downloads/month
Audio Influencer at $49/month ($44/mo annual discount) for 60,000 downloads/month
Podcast Brand at $99/month ($90/mo annual discount) for 150,000 downloads/month
Podbean has been providing innovative podcasting services as an industry leader since 2006. It boasts working with 530,000+ podcasters, 11.3 million+ episodes, and over 7.4 billion downloads. Podbean offers a user-friendly interface that integrates publishing, management, syndication and analysis tools into an easy-to-use podcasting package.
Podbean is a good ally and media host of The Asian American Podcasters Association Podcast. The web interface is very easy to use and prices are affordable. Podbean is known to feature its customers in its app and as guests on its Podcasting Smarter podcast.

Pros: Podbean App Audio Recorder, Podbean Live Stream (audio streaming for audience engagement), Paid plans have unlimited storage space and unmetered bandwidth, monetization (Podbean's built-in dynamic advertising system, Patron Program, and/or Premium Podcast service).

Cons: One RSS per account so multiple shows require separate $9/mo accounts with separate logins. Additional features like multiple ad networks and a customizable player requires higher priced plans.

Plans:
Basic FREE for 5 hours storage space and 100 GB bandwidth monthly
Unlimited Audio $14/month ($9/month annual discount) for audio podcasting
Unlimited Plus $39/month ($29/mo annual discount) for video and monetization
Business $129/month ($99/mo annual discount) for podcast networks and business podcasts
Founded in 2014, Acast says it's "the best curated, fully integrated, fastest growing podcast marketplace in the world." With offices from New York to Paris, from Stockholm to Sydney, Acast serves podcast creators and the biggest publishers like Vice, The Guardian, The Economist, BBC, and Yahoo! For podcasts with over 10,000 weekly listens, Acast can provide a dedicated team offering premium hosting, monetization, and marketing support.

Pros: Depending on paid plan tier, Acast offers powerful tools for podcasters including sharing to Facebook, Twitter, YouTube, Instagram, and the web, Audiograms, Websites, and Transcriptions. Higher level plans available for podcast networks and brands.

Cons: One RSS per account.

Plans:
Free Starter plan with basic analytics and website
Influencer Plan at $25/month ($14.99/month annual discount) includes advanced analytics, a customizable podcast website, unlimited episodes and downloads
Ace Plan includes $40/month ($29.99/month annual discount) includes episode transcriptions, advanced support, pro webinars, publishing API.
Anchor
Anchor is an all-in-one platform where you can create, distribute, and monetize your podcast from any device, for free. Many critics previously pointed to Anchor's free model as being unsustainable; but since was acquired by Spotify in February 2019, the company has more money and resources behind it. As a free platform, many hobbyists and beginners find Anchor to be the best place to start a podcast and to experiment. Those who podcast for business caution that you typically get what you pay for.

Many aspiring podcasters are drawn to Anchor for it's advertising platform that promises easy monetization tools. Keep in mind that monetization is tied to downloads so unless you have a very popular show, money is not likely to be meaningful. It's also worth noting that you don't have to display the Anchor logo on your show art or include ad reads in your podcast.
If you use Anchor, I suggest that you manually submit your Anchor RSS feed directly to Apple Podcasts Connect so that you have your own Apple ID and access to Apple's analytics.

Pros: Good creation tools, free hosting, stats, and advertising platform. The voice messages to engage with listeners is a unique feature.

Cons: Anchors creation tools make it easy to record but external microphones and audio editing software will result in better production options.

Plans: FREE
Blubrry
Since 2005, Blubrry.com is a podcasting community and directory that gives creators the power to make money, get detailed audience measurements, and host their audio and video. Blubrry, a subsidiary of RawVoice, is a privately owned and operated company that is 100% based in the United States. Blubrry is especially known for its PowerPress plugin that offers more than 100 features and has 75,000+ active installs. Blubrry's hosting is integrated with WordPress via PowerPress making it easy to publish and manage your podcast and website. CEO Todd Cochrane is a podcasting pioneer and host of multiple podcasts (Podcaster Insider, New Media Show, Geek News Central Special Media Feed.)

Pros: PowerPress plugin for WordPress, advanced IAB certified statistics for all plans, unlimited bandwidth, no contracts.

Cons: Can get expensive if you need bigger monthly storage plans, may not be optimal if you don't have a WordPress website.

Plans:
Small $12/month for 100 MB monthly storage
Medium $20 for 250 MB monthly storage
Large $40 for 500 MB monthly storage
Extra Large $80 per month for 1,000 MB monthly storage
Professional – unlimited storage
Buzzsprout
Founded in 2008, Buzzsprout says that it has helped over 100,000 people start their own podcast. It provides easy tools to host, promote, and track your podcast. The podcasting dashboard website interface is well-designed with good features. Buzzsprout is a good choice for podcasters who only have one show and need a single RSS feed.

Pros: All plans include advanced stats, unlimited team members. Paid plans include unlimited storage, import podcast for free. Buzzsprout Affiliate Marketplace, Resources (YouTube channel, private Facebook community, and award-winning customer support.)

Cons: Buzzsprout automatically processes your audio file into 96k mono unless you turn on Magic Mastering for an additional cost. Tiered plans may be affordable at start but increase with content length. One RSS feed per account. No annual prepaid discount.

Plans:
Free plan includes 2 hours uploaded each month and episodes hosted for 90 days
$12/month for 3 hours upload each month
$18/month for 6 hours upload each month
$24/month for 12 hours upload each month
Castos
Founded in 2017, Castos has over 10,000 installs of its Seriously Simple Podcasting plugin and thousands of active customers on the Castos hosting platform. Publish as much content as you want for a fixed monthly price.

Pros: All plans include unlimited number of podcasts (RSS feeds), no episode limits, or download limits. Website, episode transcriptions, analytics. Plugin optimized for WordPress.

Cons: Pro plan needed for video podcasts and advanced analytics.

Plans:
Starter $19/month ($15.84/month annual) for getting started
Growth $49/month ($40.84/month annual) for features to market and promote
Pro $99/month ($82.50/month annual) for video content and more analytics
Simplecast
Since 2013, Simplecast has provided podcasters with industry-leading publishing, distribution, analytics, and sharing tools. Simplecast exists for the podcaster, giving shows of all shapes and sizes access to the same tools powering shows from some of the world's biggest brands including Facebook, Twitter, Showtime, Nike, Politico, Fast Company, Harvard University, and more. Simplecast is now part of SiriusXM–Pandora.

Pros: Unlimited storage space and uploads, unique analytics, customizable website and domain, Recast tool for creating/sharing audiograms.

Cons: Monthly download limits depending on plan: 20k downloads/month for Basic, 50k downloads per month for Essential, and 120k downloads per month for Growth.

Plans:
Basic at $15/month ($13.50/month annual) for everything needed to launch a podcast
Essential at $35/month ($31.50/month annual) includes tools for growing a podcast
Growth at $85/month ($76.50/month annual) includes collaboration tools and deeper insights
Network and Business Plans are also available
Spreaker
Founded in 2010, Spreaker is a solid provider with thousands of podcasters hosting their shows on the platform and millions of active monthly users. Spreaker was acquired by Voxnest in 2018.
Spreaker has developed free podcasting apps for Desktop, iOS, and Android. Spreaker Studio for Desktop enables creators to record or live stream, integrate easily with Skype, and manage your episodes and drafts. Spreaker Studio for Mobile allows you to record on the go, chat with your audience as you stream live, and access your stats on your smartphone or tablet. The live streaming features set Spreaker apart for any podcaster looking to produce live shows.

Pros: IAB certified statistics, apps to record and publish or podcast live, unique monetization program with dynamic ads insertion, ability to host multiple shows

Cons: Advanced stats require higher cost plans. Live podcasting is limited by plan level so podcasters need to evaluate how often and how long they will use the feature.

Plans:
Free Speech FREE for 5-hours of storage
On-Air Talent $7/month ($6/month annual) for 100-hours of storage
Broadcaster $20/month ($18/month annual) for 500-hours of storage
Anchorman $50/month ($45/month annual) for 1,500-hours of storage
Transister
Transistor calls itself a simple, yet powerful podcast hosting platform. Founded in August of 2018, Transistor serves over 9,000 podcasts of all types including indie podcasters, small businesses, and enterprise companies — Basecamp, VH1, ProfitWell, Ionic, and Laravel. Founders on Buda and Justin Jackson are both podcasters — Build Your SaaS podcast.
You can create as many podcasts as you'd like without storage limits. Transistor gives you everything you need to get your podcast on Spotify, Apple Podcasts, and Google, a podcast-ready RSS feed, unlimited storage and bandwidth for your audio files, customizable podcast website, in-depth analytics, embeddable audio player, support for multiple users, and integrations (MailChimp, ConvertKit, and Drip.)

Pros: Host unlimited shows, add multiple team members, well presented stats.

Cons: More downloads means higher pricing.

Plans:
Starter $19/month for 15k monthly downloads
Professional $49/month for 75k monthly downloads
Business $99/month for 200k monthly downloads
What podcast media host have you worked with? If you ever changed hosts, what were the reasons for moving?