Looking for a podcast editor or video editor?
High performing podcasters hire remote workers to get ahead. Delegate key tasks to affordable and skilled remote workers in order to rapidly scale your podcast and manage day-to-day work.
We will help match you with a remote professional with expertise in podcast editing, video editing, graphic design, appointment scheduling, or website development.
Build Your Virtual Team
Just imagine what you could accomplish with the help of a team! Affordable remote professionals will save you time so you can focus on creating better content and marketing your show.
| | |
| --- | --- |
| Virtual Assistant | Email inbox management, appointment scheduling, managing social media inboxes. |
| Multimedia | Graphic design, video editing, podcasts editing. |
| Website | Modifying WordPress themes, plugins & website development. |
| Other | Copywriting, eCommerce, Direct Sales, Research, and more. Complete the form below and describe your needs. |
If you haven't found the right virtual professional on Fiverr, try interviewing one of our remote professionals who goes through a rigorous interview process, helping you to avoid false starts and misfires by trying to find a reliable worker on your own.
How It Works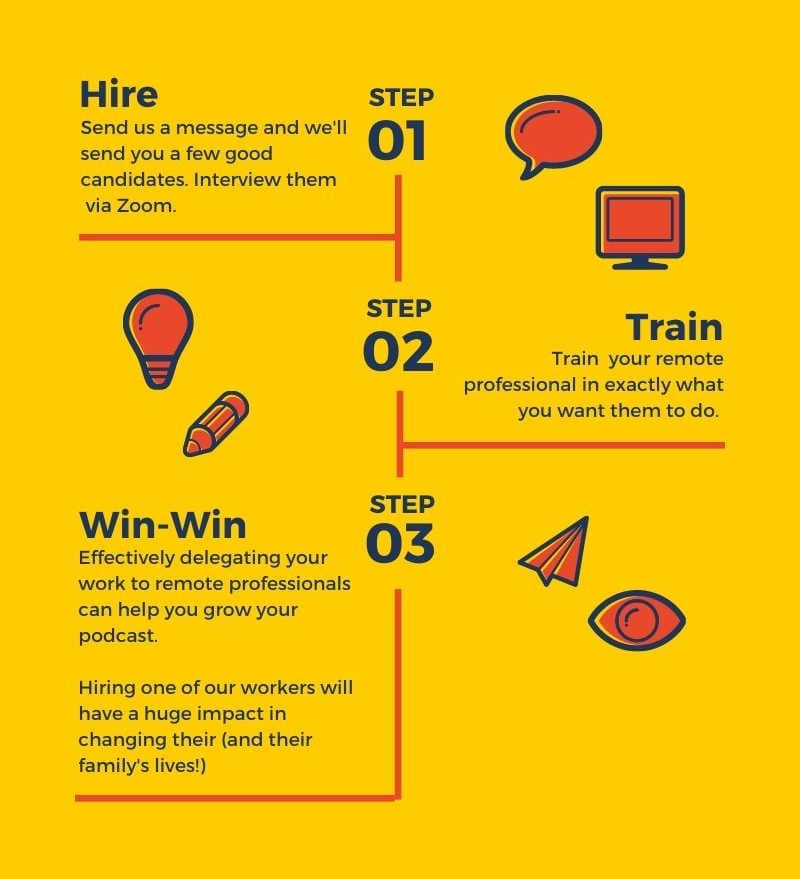 Pricing
The rate for general remote workers is $7.95-$8.95/hr.
Specialists like video editors and copywriters go for a little more — in the range of $9.95/hr–$13.95/hr.
Ready to get started?
We can set you up with a talented remote professional in as little as 24 hours!
Fill out the form to let us know what kind of worker you're looking for, and we'll send you bios of awesome candidates ASAP!