Choosing the right remote recording service is crucial if you want to reliably capture high-quality audio and video for your podcast. While Zoom "just works" and people are familiar with it, there are a number of options that deliver higher-resolution video and uncompressed audio.
In this guide, I rank and review the best podcast recording software for remote interviews so that you can pick the best one for you. I hope this deep dive helps you to compare platforms with their various features and costs.
Features
Record up to 8 people
Local recording up to 4K video resolution and uncompressed 48kHz WAV audio
Separate audio and video tracks for every participant
Video files available as MP4 (Locally recorded, high-quality MP4 video file with audio. This is a variable frame rate file straight from the camera) or Constant Frame Rate MP4 (This is a locally recorded, high-quality MP4 file that is locked at 24 Frames Per Second)
Basic editing in Magic Editor (upload your logo, change the background, choose speaker layout, and export)
Create short clips for social media and other repurposing
iOS and Android apps for on-the-go recording
Livestream your interview to Facebook, Youtube, Twitch, LinkedIn, and a custom RTMP destination
Media Board for live editing: Upload, play, and record audio AND video clips directly from the online studio
Producer mode and controls
Accessible audience link
Pricing
The table below shows annual plans that save you up to 21%. Many weekly podcasts find the Standard Plan sufficient. However, transcriptions are included with the Pro Plan.
Free – $0/month; 2 hours of separate audio & video; Watermark on exported files; Up to 720p recording.
Standard – $19/month ($15/month Billed $180 annually); Separate tracks for 5 hours/month + live stream; Producer mode access
Pro – $29/month ($24/month Billed $288 annually); Separate tracks for 15 hours/month; Unlimited transcriptions; Accept live call-ins; Producer mode access
Teams – Unlimited separate tracks; Full control: Manage audio levels & change input/output devices of participants; Full frame view; 29.97 and 24 FPS; Custom branded lobby and studio; Customer Success Manager; Master Service Agreement; Onboarding & Training.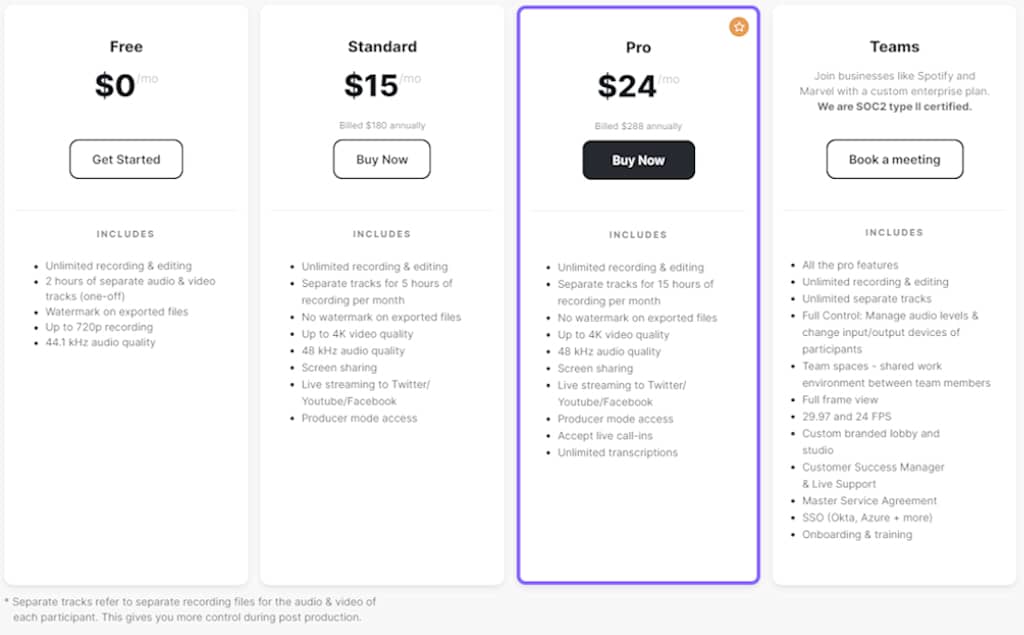 Pros
Riverside.fm has raised a total of $47M in funding over 2 rounds. Their latest funding round of $35M closed on Apr 26, 2022 from a Series B round.
New features and improvements added regularly.
No additional charge for going over recording limits, but Riverside will reach out to discuss a plan that fits your needs if you go over consistently.
Cons
Limited to Chrome or Edge web browser or iOS/Android App
Andy's Take: Riverside is a feature-rich recording platform used by big brands and podcasters. Try it! 60 minutes of free recording, no credit card required.

Use my affiliate link https://www.riverside.fm/?via=podcastgym with coupon code PODCASTGYM for 15% off any Riverside membership plan.  
Features
Record up to 10 people (host + 9 guests)
Local recording up to 1080p at 30fps video resolution mixed with audio in mp4 (also available in webm format)
48 kHz sample rate and 16-bit depth audio files in wav format (also available in mp3 format)
Separate audio and video tracks for every participant
Seamless guest experience that includes instructions, link, and virtual green room
Progressive upload and cloud backups
All accounts have access to Dolby.io technology that makes you and your guests sound and feel like you're sonically in the same room while recording together
Pro plans and above includes one-click post-production mastering through automatic leveling, EQ, and background noise reduction
All plans can mix audio with Auphonic
Transfer recordings with Dropbox
Pricing
Indie – $20/month (No annual plan); record 5 hours per month; 1 Show; 2 Team Member Seats; 3 Mainstage Participants
Pro – $40/month (Annual plan billed $400 per year); record 12 hours per month; 3 Show; 5 Team Member Seats; 5 Mainstage Participants
Studio – $80/month (Annual plan billed $800 per year); record 25 hours per month; 10 Show; 10 Team Member Seats; 10 Mainstage Participants
Enterprise – Volume Video Recording; Volume Shows; Volume Team Member Seats; 10 Mainstage Participants

Special Pricing for Education, Government, and Non-Profit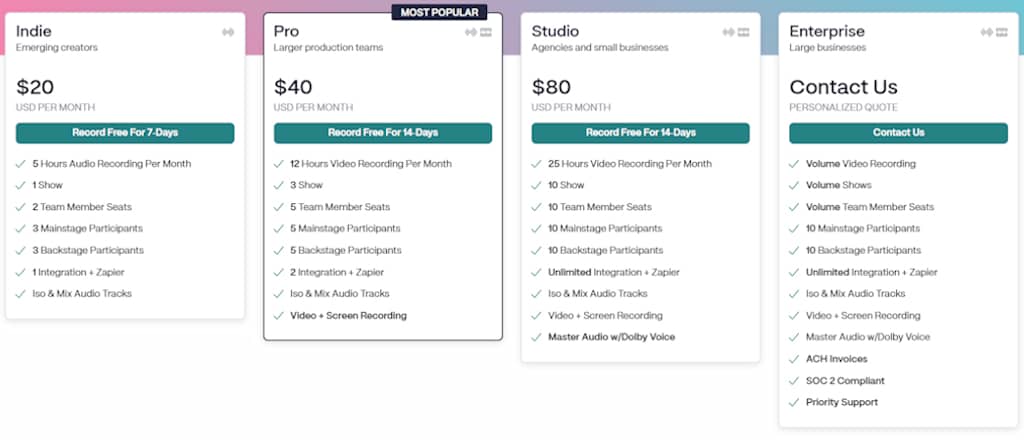 Pros
Dolby Technology integration for recording
Supported browsers include the latest versions of Chrome, Firefox, Safari, Opera, Brave, and Edge
Android devices are supported using a mobile browser
iPhone and iPad support are in Beta as of November 2022
Sync to Google, Apple, Outlook Calendars
SquadCast says local recordings are rendered using its patented Drift Normalization technology that ensures there are not issues with time syncing between recordings
Auto-save and backups included on all plans
Access to 24-hour support center and email
Cons
More expensive than other video recording platforms
If you run out of monthly recording time, you can purchase more time for your account when the remaining time is less than an hour
Andy's Take: SquadCast is trusted by big brands and has built a strong reputation as one of the best audio recording platforms. The addition of video recording and Dolby.io are welcome features to this respected recording platform.

Free 7 – 14 Day Trial, depending on the plan.
Features
Record up to 9 people online from any location in a recording room at one time
Record your video and audio locally up to 4k and stream the video conference in 720p
Separate video & audio files for each guest — WAV (lossless) and MP3 (optimized) and the video in MP4
Create a custom recording room with your own URL to share and invite others
Waiting room feature requires host/producer approval to admit guest(s)
Easily add team members and set permissions
Pricing
Plans are straightforward, tiered by how many hours of recording you need. Yearly plans include a 10% discount.
$9/month; record 2 hours per month
(Billed $97.20 annually; $8.10/month)
$19/month; record 5 hours per month
(Billed $205.20 annually; $17.10/month)
$29/month; record 10 hours per month
(Billed $313.20 annually; $26.10/month)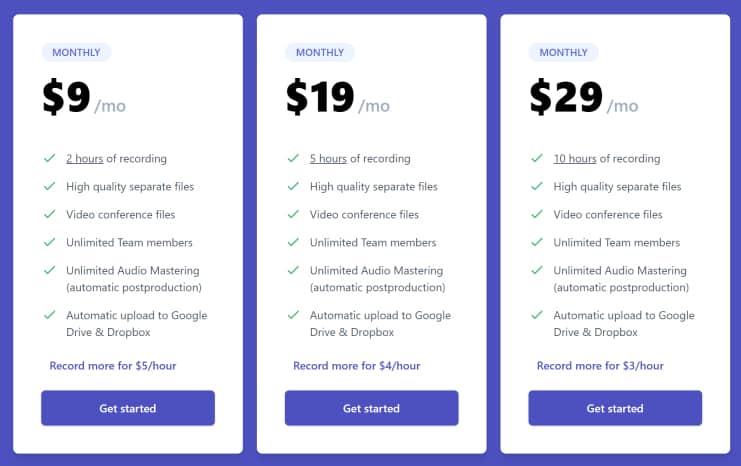 Pros
Supported browsers include Chrome, FireFox, Brave, Edge, Opera, and Safari with desktop computers, laptops, iPhones, and Android phones
All plans come with unlimited audio mastering (postproduction)
All plans feature backup/automatic upload to Google Drive and Dropbox
Cons
iPhones and iPads don't support the dual (local and remote) video recording
Andy's Take: Iris is a solid recording platform for capturing separate video/audio tracks in high quality. It's simple to use and gets the job done.

Record up to an hour for free. No credit card required.
Features
Audio-only mode allows for 8 participants (1 host + 7 guests)
Video mode allows for 6 participants (1 host + 5 guests)
Locally record audio in uncompressed .WAV format at 48kHz/16bit
Locally recorded .MP4 video in up to 4K resolution at 30 frames per second
Each participant recorded on separate tracks
Automatically send professional calendar invites to guests
Recorded tracks are stored in your account page for 6 months
Add your branding
Pricing
The feature set appears to be the same for the two pricing plans with exception to video. Note that you can see each other while recording with the Audio plan, but it isn't recording the video.
Audio – $19/month; record 5 hours per month
(Billed $180 annually; $15/month)
Audio + Video – $35/month; record 8 hours per month
(Billed $300 annually; $25/month)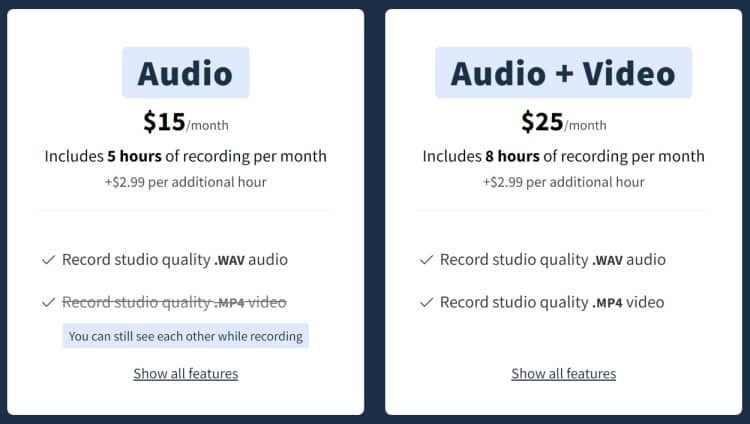 Pros
Remotely says it supports all major browsers and platforms (Google Chrome, Safari, Firefox, Microsoft Edge, and Opera browsers are supported on computers + iOS and Android devices)
Automatic backups
Remotely features automatic post-production that mixes each track into a file that's ready to publish
Cons
If you run out of credits included in your plan, you will be charged an additional $2.99 per additional hour for the extra time.
Andy's Take: I'm still gathering information about Remotely, and there is not a lot of information about the company online. More will be posted here soon.

First 60 minutes free, no credit card required.
Features
Local recording up to 1080p HD Video with up to 4 guests
Lossless 16-bit 48k WAV audio track per guest
Unlimited audio recordings
Soundboard for live editing allows you to insert audio clips as you record (intro, ad, or other audio on the fly)
Built-in Peer-to-Peer encrypted VoIP chat and footnotes
Automatic postproduction can mix tracks into one audio & video mix + loudness normalization, noise, and hum reduction
Automatic cloud file storage in Dropbox or Google Drive
Pricing
The 8-hour-per-month hobbyist tier is free or a $20-per-month professional tier includes lossless WAV recording, Automatic Postproduction, and unlimited guests and recording time.
Hobbyist – Free; trial 1080p video recordings; audio/Video mixing (pay separately)
Professional – $20/month; unlimited 1080p video recordings (beta); Audio/Video mixing (10 hours/month); live editing soundboard, unlimited English transcriptions
(Billed $216 annually; $18/month)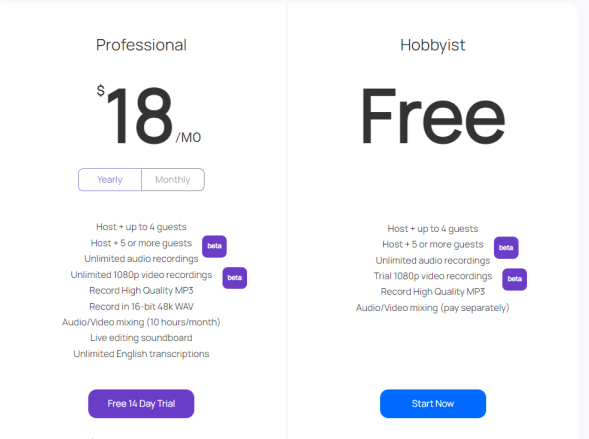 Pros
Free plan available with a reasonably priced paid option
Zencastr has raised a total of $4.6 million in funding over 2 rounds. Their latest funding was raised on Feb 22, 2021 from a Series A round.
Cons
Video is still in beta
Zencastr does not currently support mobile devices
Supported browsers: Brave, Chrome, and Microsoft Edge (Zencastr does not support Safari or Firefox)
Zencastr has had audio sync or drift problems in the past
Andy's Take: Zencastr's value proposition (price to features) is very attractive; but for some podcasters, the company will need to prove itself following its previous sync and server issues. The good news is that Zencastr's funding will go toward platform stability and hiring.

Try Zencastr for free!
I'm really happy that podcasters have more choices for high-quality remote interviews. What is your favorite platform andy why?