I picked up my 12-year old son from school the other day. He immediately connected his phone to my car via bluetooth, opened Spotify, and played…

Foil by "Weird Al" Yankovic.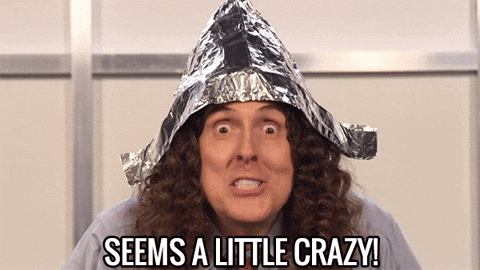 As the song played, I could see his mind focused on the lyrics. 
Be aware: There's always someone that's watching you
And still the government won't admit
they faked the whole moon landing
Thought control rays, psychotronic scanning
Don't mind that, I'm protected cause I made this hat

From aluminum foil (Foil)
He turned to me and said, "Weird Al is a genius."

It was a proud moment for his dad.
ECCENTRIC
I'm excited about the upcoming release of Weird: The Al Yankovic Story starring Daniel Radcliffe. It streams for free on November 4th.
What does this have to do with podcasting?
Weird Al's discography consists of fourteen studio albums, nine compilation albums, eleven video albums, two extended plays, two box sets, forty-six singles, and fifty-four music videos. His long career has outlived many of the people he parodied.
In a sea of me-too podcasts, you need to embrace your weirdness.
Find a topic that you absolutely love, your authentic voice, and your audience. Focus on that combination with consistency, and your podcast will grow. I promise.
LinkedIn
I'm excited to be among 120 creators that make up LinkedIn's second U.S. class of its Creator Accelerator Program focused on technology & innovation. 
Keep your eyes peeled for a future class of the LinkedIn Creator Accelerator Program or similar opportunities because it's another path to monetization. For example, LinkedIn (owned by Microsoft) has committed to invest $25 million in creators and this round of CAP includes a financial grant of up to $12,000.
YouTubers Colin Rosenblum and Samir Chaudry are among the mentors for this year's class and have been providing education.
As you dare to be weird, here are some tips I received from Colin and Samir.
Think hard about your content market fit.

1. What you want to make
2. What the audience wants to watch
3. What the platform algorithms want to serve
These may sound like three simple things, but they can make a difference. Be very thoughtful about why you are creating the content that you create. Tell a good story. Publish frequently so that you can develop a feedback loop. Once you publish, keep reviewing the data. Study success so you can understand why specific content, like a podcast episode, performed well.
Settle into a process that works for you. Samir says that for him, great content ideas come while quietly journaling and from having conversations with others.

What's your process?
Noise Reduction
Here's the video that I created about my project.
I also demo my favorite AI-powered noise reduction podcast plugin, Waves Clarity Vx. I use it on nearly every episode of Inspired Money. It's amazing.
Do you have a favorite audio plugin?
What's new with you and your podcast? Do you have a win to share?