Let's suppose you had a million dollars to promote your podcast with radio ads, what would happen? It turns out someone is doing just that so we can see if it works.
Podcasts Dominate Radio Advertising
Last week, podcast shows ranked in the top three of radio ad spots based on play count. The Ron Burgundy Podcast, Fake Doctors Real Friends With Zach & Donald, and Missing in Alaska outpaced big companies like Progressive, Lowe's, and GEICO! That was nearly 200,000 ad plays for podcasts played on US radio last week.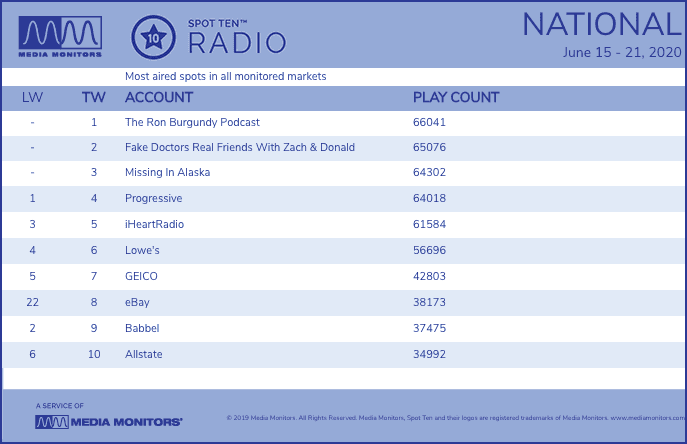 It should be noted that the above podcast ads of these iHeartMedia-distributed podcasts probably reflect placements on iHeartMedia owned stations. James Cridland of Podnews estimates the cost of these ads at $1.9 million if you or I bought them.
Impact of Radio Ads
The result? James writes:
All shows saw a significant increase in the Apple Podcasts chart during the week – the chart is worked-out using new subscriptions. Ron Burgundy wasn't even charting before the ad campaign (it's in a break).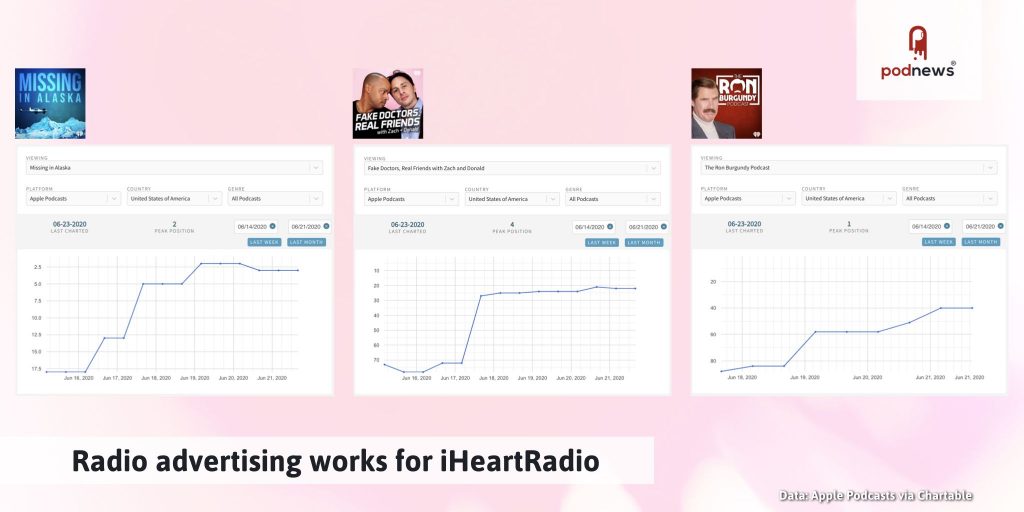 Takeaways
Advertising Can work
Listeners don't only discover podcasts by word of mouth or via a mention on another podcast. Advertising on mainstream radio can help increase new podcast subscribers.
Marketing Is Necessary
It's overly simplistic for independent podcasters to say it's impossible to compete with the star power of Will Ferrell. iHeartMedia demonstrate that having a big name host isn't enough. Even popular shows need consistent marketing to increase visibility and subscribership. This also speaks to the power of having the marketing strength of a large podcast network behind you.
Keep Experimenting
Given that iHeartMedia has the platform to advertise nationally on radio, this strategy makes sense. But they didn't know it would work until they tried. Based on evidence, they can continue to add more shows and more play counts. Rinse and repeat.
Devise Your Marketing Plan
You and I may not have the advantage of owning our own network of radio stations to distribute ads. That doesn't mean we can completely ignore marketing.
Dedicate time to marketing and devise a plan that makes sense for you. Whether it's consistently booking guest appearances on other podcasts or doing paid ads on social media, doing more marketing than the average podcaster will put you ahead of the pack. Just like iHeartMedia, find what works and keep repeating the process.
Do you have effective marketing tips that you've found have grown your podcast?