Whether you're planning to attend a conference or deploy some local Guerilla Marketing, it's a great idea to create promotional items for your podcast.
Back in college, I played guitar in a band. I'll always remember grabbing a snack at IHOP one night and a kid walked in wearing a t-shirt with our band name on it!
Run a podcast long enough and you'll experience this phenomenon too. Since podcast discovery is often word-of-mouth, you should empower your listeners and fans with swag that sparks conversation.
Start Simply with Stickers
Since launching a podcast, I've learned that there's a segment of people in this world who love stickers. Make a sticker with your show art, and there's a good chance that your podcast logo will soon be on display at a coffee shop somewhere.
Where to buy: Sticker Mule
$0.82 each for 100 – 3×3 round
Click this link for a $10 credit
Pin Buttons
I've also discovered that there are sticker people or button people. Rarely, do these groups overlap.
Pin buttons are especially handy at conferences where you can pin one to your lanyard and others tend to do the same. This boosts your exposure at a conference and "pin people" appreciate adding a new button to their collection.
Where to buy: PureButtons
$0.38 each for 250 – 1.5″ Square Custom Buttons
Business cards
I have to admit that business cards still matter even though I've been holding out on printing them for my podcast. My thinking has been that a sticker with my domain name has a better chance of standing out from the pack.
When you go to a conference or event, one of the most valuable takeaways is the networking — making new connections. A business card exchange is a important part of that. I should really order business cards.
Where to buy:
VistaPrint – quick, affordable, and no-nonsense
$30 for 500 (Standard)
Moo – impressive heavier card stocks with colored edges
$119.99 for 200 (Luxe)
T-Shirts and apparel
Whether you wear your own shirt, open a listener supported online store, or sponsor giveaways, branded apparel can up your marketing game. The good news is you don't have to bulk order shirts in large quantities. Rather, with on-demand stores, you upload a design and let an online store handle orders, printing, and shipping. You just decide the mark up, if any.
Where to buy: Tee Public
$20 per t-shirt
Wide selection of products available
Inexpensive and Practical
Promotional swag doesn't have to be expensive to be effective. While the business cards that I collected at Podfest are scattered about, the bookmark that Eric Hunley gave me sits inside a book on my nightstand. The QR code (smart link) that takes me to the right place to listen to his podcast is a nice touch.
Where to buy: GotPrint
$0.04 each for 1000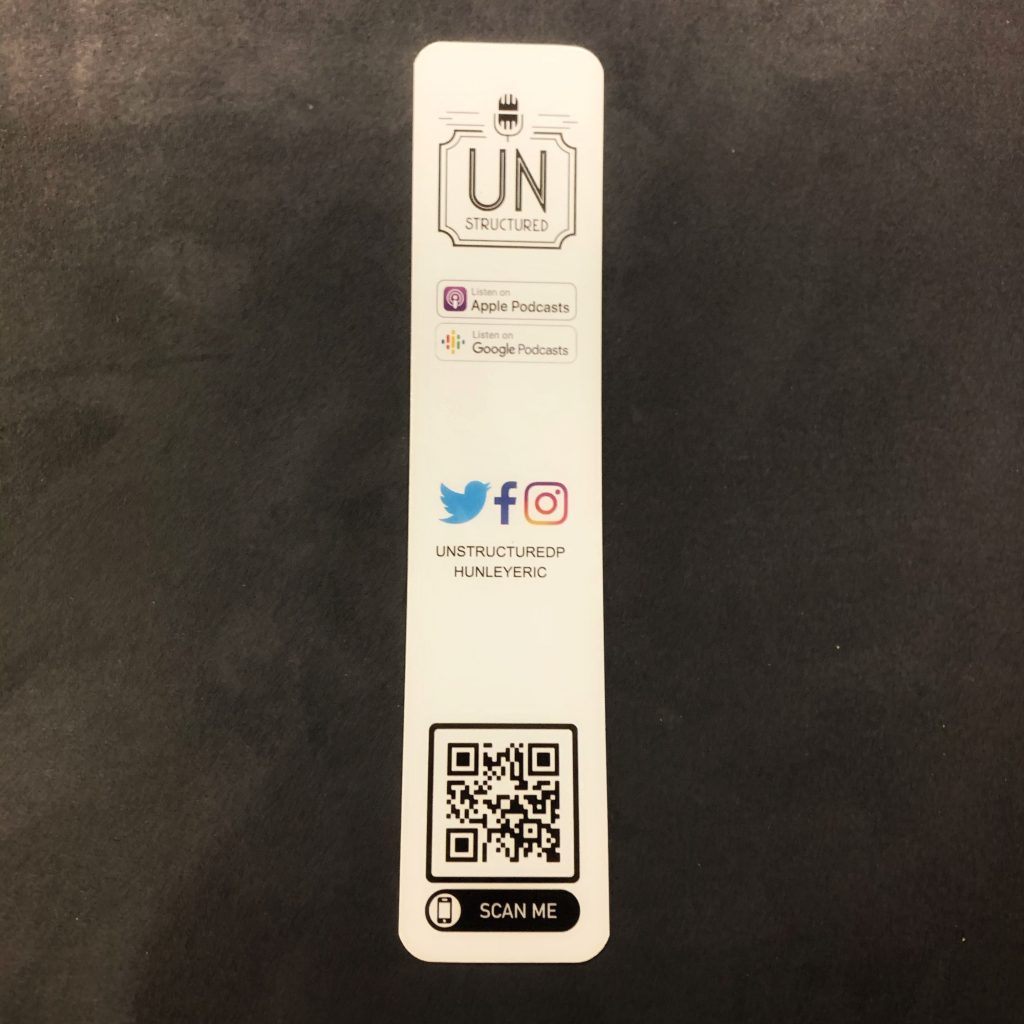 Go Premium With YETI
This one, I would not have bought for myself. My family splurged and got me this YETI custom Rambler 20 oz. Tumbler for Father's Day. Seeing how I use it everyday for my morning coffee, I admit that it was money well spent!
A custom YETI mug with your podcast brand can be a special way to say thank you to a Patreon supporter or evangelist super fan.
Where to buy: YETI Custom
$29.99 each
Add your podcast logo to drinkware, hard coolers, or dog bowls
If you've made promotional items for your podcast, what did you make? And what worked best?