Without any fanfare, this month marked my fifth year of podcasting. There was no t-shirt (5 years of podcasting, and all I got was…), champagne, or commemorative pin. 
What's my prize?
It is a catalog of 250 episodes. Nobody can take that body of work away from me. They're part of my legacy.
Lately, I have been keeping my head down. There's much to do. I feel like I should have gone to Podcast Movement in Dallas, but I haven't made plans to attend any conferences in 2022. Between running a financial advisory business, publishing a podcast, and going through a major home renovation, I prefer to stay close to, well, home.

I took the month of August off from writing this newsletter. Breaks can be really good. It's great to be back.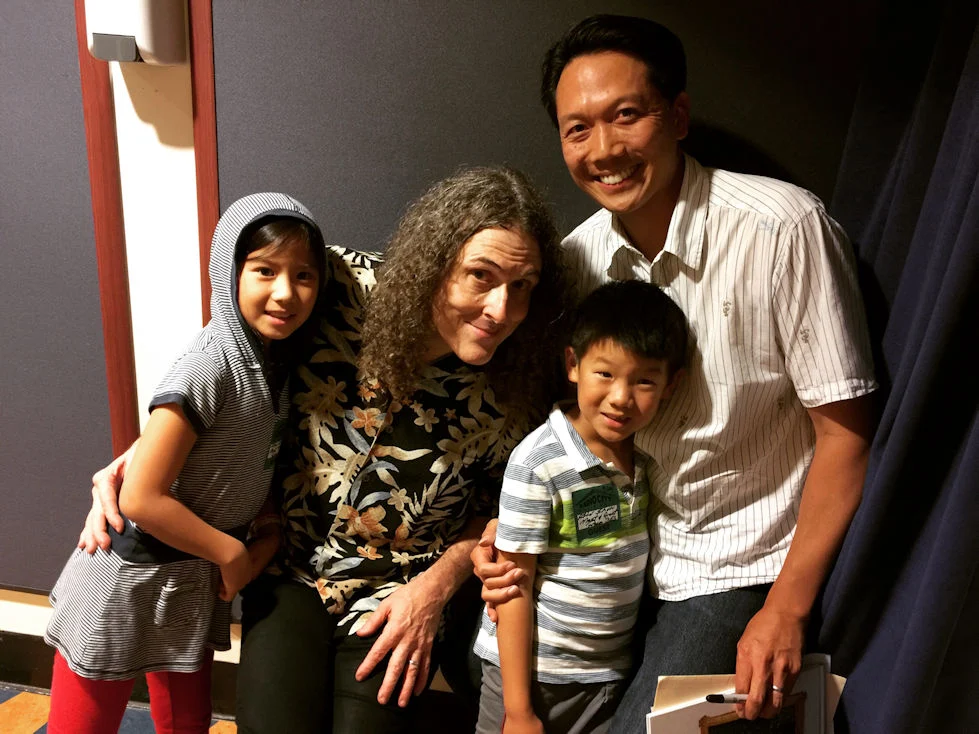 On August 1, 1981 MTV broadcast "Video Killed the Radio Star" and screened music videos 24/7. It was a major transformation in pop culture that turned VJs (video jockeys) into celebrities. It forced the music industry, especially those making records, to think in images as well as sounds. MTV made Weird Al Yankovic's parodies even funnier. Michael Jackson's 13-minute Thriller video stunned audiences, as an art form in itself separate from the music.
(Pictured above: Two of my kids and I at Radio City Music Hall with Weird Al in 2016. It's a multimedia show for all ages. Tina Fey and Lin Manuel Miranda were also in the audience.)
mov mp4 m4v
I'm seeing a lot of headlines about the rise of video in podcasting.
YouTube has reportedly offered individual podcasts $50,000 and up to $300,000 for podcast networks to fund filmed episodes and other video-based content. It's worth looking at YouTube's Podcasts Page, if you haven't already.
There's a battle for podcasts among giants Apple, Spotify, and YouTube (Google) — and video is a part of it.
It makes sense. While many of us love the ability to multi-task while listening to podcasts, advertisers prefer our undivided attention. If listening to an advertisement is good, watching one is even better.
It begs the question, "What is an independent podcaster to do?"
As luck would have it, I have been publishing video podcasts for over a year. Here are my thoughts.
Pros
The Pros of video podcasting:
Increased discoverability – Potential to benefit from YouTube's algorithm and search engine optimization (SEO) to reach new viewers.
Differentiation – Stand out from a sea of audio-only podcast creators. 
More audience engagement – Additional ways for audiences to communicate with you. For example, YouTube comments.
Repurpose video clips for more social shares – Post clips to social and take advantage of short-form video platforms like TikTok, YouTube shorts, and IG Reels.
Build greater authenticity and trust – A picture is worth a thousand words.
Less editing – I've found that video podcast episodes require less editing because a long pause doesn't feel as unnaturally long. I also leave more ums and ahs in because they cannot be removed seamlessly from video. 
Cons
The Cons of video podcasting:
File Storage – If you've ever filled your hard drive with wav and mp3 files, multiply that by 20-40 times! I'm constantly moving files to an external drive.
Time-consuming edits – Rendering takes much longer. Video adds complexity because you can add b-roll and onscreen captions.
Build a studio – Not essential, but best practices dictate having a decent camera, lighting, and good background.
Self-conscious – This will vary, but I find myself concerned about wearing a good shirt and whether I need a haircut.
I do not take the above lightly. Many of these points can add significant friction to the process of podcasting. In my experience, I've had more missed weeks of not publishing an episode because of video.
I certainly do not recommend video podcasts for everyone. You need to look at your time and decide if the pros outweigh the cons.
You can always try a handful of episodes to see if it works for you.
The Climb
If you decide to publish video, remember to focus on quality, consistency, and creating for your audience. 
It has taken me well over a year to hit 1,000 YouTube subscribers. My most watched video has 5.5K views, but some sit at less than 50.
A byproduct of publishing video is my improved video editing skills. Here's a video I made about visiting LinkedIn's New York Creator Link-Up.
In January 2021, Eric Hunley warned me not to expect quick results on YouTube to which I replied, "No problem. Persistence and patience. I'm a podcaster."
What's your big audacious podcast goal for the remaining four months of 2022?