I've never liked awards much. Perhaps it began in 1989 when the newly created Grammy Awards category for Best Hard Rock/Metal Performance Vocal or Instrumental went to Jethro Tull instead of Metallica.
I'm also parenting in the era of "Every Kid Gets a Trophy." Where's the excellence?
I'm pretty bah humbug and yet…
Today, I am one of the organizers of the Golden Crane Podcast Awards. The Asian American Podcasters Association just hosted its second annual awards show, and I loved it.
What bitter irony.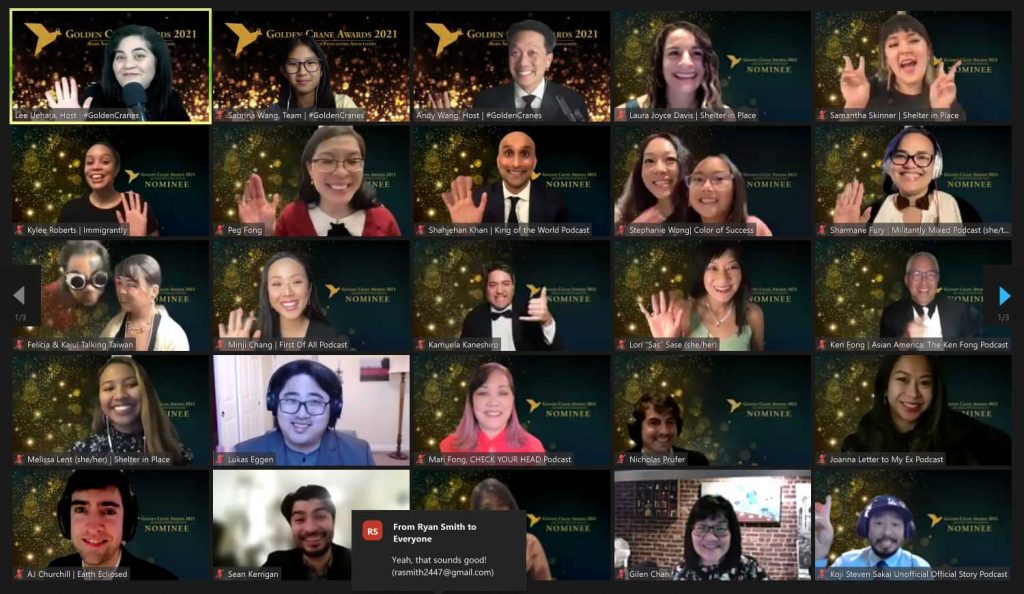 Look at all the happy faces. Attendees were dressed to the nines for a virtual event. Can you believe that?!
Win or lose, it was community building with an overarching feeling of collaboration and connection.
Listen
As an organizer, I'm not eligible for nomination but am among a panel of judges. I listened to over 40 podcast episodes and voted on a number of criteria that included content, production, interview skill, and audio quality.
There is a big benefit to listening to a lot of shows with a judge's ear and evaluation card. Listening to episodes gives you context.
For example, identifying reference episodes of great sounding shows provided me with A/B comparisons for my podcast. I quickly realized that I've published episodes that don't sound as good as they should. As a result, I remixed and republished an old episode.
I urge you to put yourself through the exercise of listening to podcast with a critical ear.
You neither need to start a podcast award show nor be a judge. Just listen.
Playlists
Listennotes is a great tool. You can search for and listen to podcasts directly in your browser. Even better, you can create a playlist of podcast episodes, copy the RSS feed for your playlist, and add it to your favorite podcast catcher. 
I do this in Overcast and it works great. Any podcasts that I add to my Listennotes playlist with automatically be downloaded for listening on my smartphone.
In addition to audio quality, you can listen to shows to improve your editing, show format, and interview questions. Why not get inspired by other great shows?
Give it a try.
Keep upping your game, and you may end up with an award-winning podcast.