Today, I deleted 3,300 emails from my inbox. 5,748 unread messages stand between me and inbox zero. Oh dear.
I'll come back to my disastrous inbox later, but first…
You want to grow your podcast, right?
Many podcast gurus say the best way to grow your podcast's downloads is to guest on other podcasts. Why? Because you're getting in front of listeners who already listen to podcasts.
Here's where 2.4 million active podcasts in Apple Podcasts are a really good thing. Even if only 21% have published within the last 90 days, that leaves hundreds of thousands of podcast hosts eagerly looking for guests.
The challenge is they're not looking for just any guest.
You're going to have to pitch yourself to tell them why you're a great guest.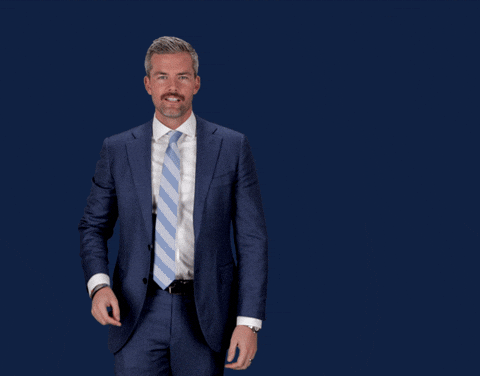 One of the quickest places to start is a guest-host matching platform like Podmatch. Register for free and create a guest one-sheet.
The Podmatch algorithm will immediately start recommending podcasts for you based on your guest profile. You can send your pitch and when a host accepts, it can be scheduled within the platform. It's that easy.
For a more targeted effort, I recommend using  Listennotes or Podchaser to search for podcasts based on your podcast's topic.
While you might be able to land a guest spot on The Tim Ferriss Show, your time would be better spent starting smaller.
Listennotes has a cool Listen Score (LS) that estimates the popularity of a podcast and a Global Rank that ranks the LS relative to the total podcast universe.
While you're at it, it might be fun to look up your own podcast.
Remember that the score and rank are just an estimation, but they can serve as a handy guide. I suggest pitching top 10% shows, then 5%, then 1%, until you're ready for Tim Ferriss.
Your pitch will be unique to you so I'm not going to tell you precisely how to pitch yourself. 
Back to my inbox. I receive a ton of guest pitches — including lots of samples of which ones worked and those that didn't.
In my experience, know the podcast you are going to pitch. After listening to several episodes, you're ready. Make your pitch concise and to the point.
While every pitch will vary, here are the non-negotiables.
Explain who you are
Tell a great story about what makes you an interesting guest who is qualified to speak on the topic that you'll bring
Extra points for why you think it will be interesting to the podcast's audience
If you've been a guest on other podcasts, name drop
What Not to Do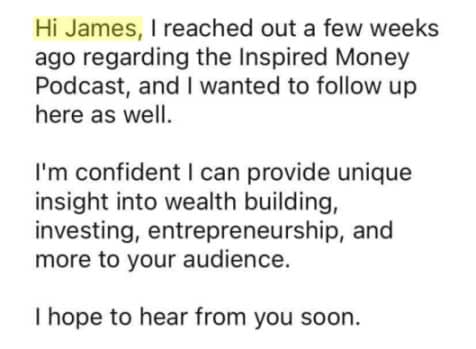 Yes, a few weeks have passed, but my name is still not James!
Further, the pitch is so vague that I have no idea what her "unique insights" might be.
Too much effort to find out more. Next!

Uh oh. Tough start. 
I get these form letters a lot. This one got my name correct but forgot to fill in for Guest X.
I was always quick to eliminate resumes with glaring errors. I do the same with incoming pitches. Next!
This One Worked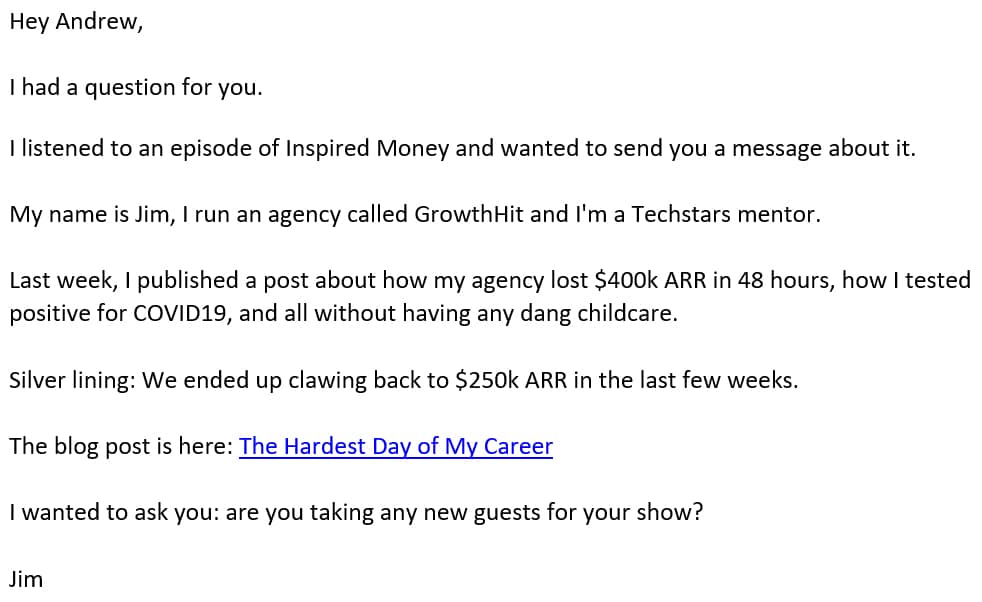 Jim's email is short and sweet. 
He opened with who he is.
He piqued my interest because he got COVID and his business lost $400,000 in annual recurring revenue. Double ouch!
His story was not only topical, catching COVID during the height of the pandemic, but he's got a comeback story!
The enclosed link to his blog post made it easy for me to learn more and check out his business.
In the end, he was a great guest. Win-win.
If you want to guest on more podcasts this year (and you should,) make a list of 12 shows that you want to target.
Carefully craft your pitch.
While you're doing your research, look at the guests who have appeared on those podcasts already. If you know any of them, ask for an introduction! That's a sure-fire way to increase your chances.
Send out 12 pitches at a time. 
Go out there and be a great guest.
What tips can you share about pitching yourself as a potential guest on podcasts?